Home
›
Official News
Absolver 1.06 is Live
Hi everyone,
We've just pushed the 1.06 update on all platforms and it will be rolling out today! Sorry for the delay on this, a couple of bugs took a little longer than expected. Full patch notes are below, the main bugfixes are the powers/items loss issue, crashes during bosses cutscenes, and disconnects during Combat Trials which should happen far less frequently now.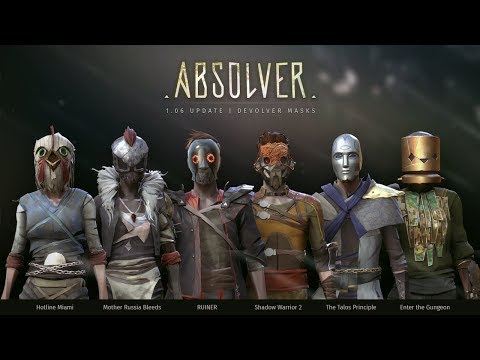 If you have new issues after this update, or that previous issues are still happening, please let us know at support_PC@sloclap.com, indicating which region you're playing from!
We know that it can be frustrating to get duplicates as rewards in Combat Trials, and we wanted to thank everyone for their support until now, so we've added new masks in the Guidance HUB; rest assured we're also working hard at reworking the loot system and the end-game rewards, but in the meantime, we wanted to make new masks available to everyone. These masks are inspired by Devolver games, and we think they're pretty cool, so we hope you like them too ! These masks won't be there forever, so grab them while you can

Thanks again,
Sloclap Team
This discussion has been closed.