Home
›
General Discussions
Absolver Official FAQ
Below is an official Absolver FAQ by Sloclap and Devolver Digital. The team will update it as important questions are gathered from community feedback. Thank you for your support. We'll see you on the plains of Adal!
General Questions
What kind of game is Absolver?
Absolver is a bit hard to define and the concept of an 'online melee action experience' seems to suit it best as Absolver is ultimately a blend of an intense, customizable fighting game set within a beautiful yet modest online world. Players make the journey from lowly Prospect to vaunted Absolver by training through combat, finding and defeating specific characters in the world, and reaching the top of the Tower of Adal. Once they achieve Absolution they are free to roam the land engaging in combat, becoming a mentor to those that wish to learn from them, and entering into more traditional 1v1 matches.
It is important to note that Absolver is not an online RPG or an MMO; the scale is relatively small compared to well known games in those genres and the online interactions are much more focused and personal without the large scale server populations one might expect from an MMO.
What is online gameplay like and can you play offline as well?
Absolver is a somewhat unique blend of online and offline game, both happening in the same experience with other players passively introduced to each other's game similar to thatgamecompany's Journey. While Absolver was designed and intended to played online with others, players can certainly play offline and even choose to limit other players from entering their game. Though possible to complete the game offline, the team at Sloclap highly recommends that players experience the multiplayer combat and social interaction that are inherent to Absolver's design.
The core of Absolver's gameplay is its deep fighting mechanics and online combat. Prospects will enter the plains of Adal alone and encounter both AI-controlled opponents and live players through Absolver's shared online experience structure. Players will roam the world as their own independent 'server' as the game seamlessly introduces other Prospects into their game experience. Once players encounter one another they will have a choice to engage in friendly sparring, more aggressive PvP combat, or cooperative PvE play with up to three players at once. Through online cooperative play each Prospect will be able to learn new moves from one another, progress on their path to Absolution, and gain experience points that can be spent on one of six attributes to improve their skills. More here: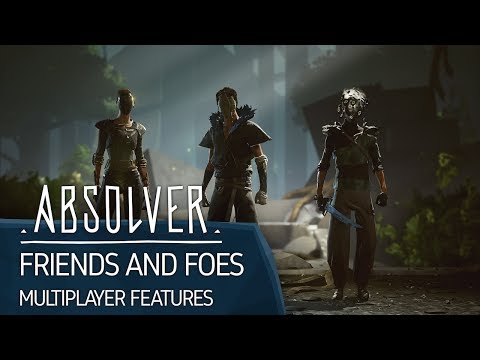 Will Absolver have continued support and new content?
We have released multiple free updates since launch that included things like a new 3v3 mode, updates to the School system, and a brand new Prestige system for players at max level. A major expansion is planned for 2018 that will be free as well. You can find our current Production Roadmap here:
https://www.absolvergame.com/forums/discussion/25817/absolver-production-update
What languages are supported?
Absolver currently supports English, French, German, Spanish, and Brazilian Portuguese on all platforms. Russian and Polish are supported on PC.
Will there be any microtransactions, paid DLC, or some sort of Season Pass?
All of our updates to the game have been free and we have a major expansion planned for 2018 that will be free as well. However, based on community feedback, we may release some paid content for players that wish to continue supporting the game's development. That content would be strictly cosmetic.
Can PS4 and PC owners play against each other?
Crossplay is not currently supported and we are not focusing on adding it at this time.
What other platforms will Absolver come to after PC and PS4?
The team at Sloclap is relatively small so we started with PC and PS4 but hope that with success we can bring the game to more platforms. We plan to have an Xbox version released in 2018.
Can Absolver be played with a mouse and keyboard?
Yes, though a gamepad is recommended. Both mouse/keyboard and gamepads allow for rebinding commands to make things more functional for both types of players.
What are you doing to address cheating in Absolver?
The development team at Sloclap has implemented measures to prevent players from cheating during combat. If you run into someone who you feel may be cheating, please report them to us via email at support_online@sloclap.com
What's the deal on framerate?
The PC version runs at 60fps on a PC with the recommended specs and at least 30fps on a PC with minimum specs. The PlayStation 4 version runs at 30fps in the open world and at 60fps in the Combat Trials.
Can I monetize gameplay from Absolver on YouTube, Twitch, etc.?
Absolutely, and we hope that you do!
Is there a physical version for sale?
Special Reserve Games has limited edition physical sets for PC and PS4 as well as PS4 retail boxes available via absolver.devolverdigital.com
Will there be mod support for Steam Workshop?
We don't have any plans for this currently.
Why does my Steam name appear instead of my character name?
This was done to make better use of the Steam Friend List feature.
Why can't I add this person to my friends list?
Friends lists are managed by the platform you are playing on. We allow all PC players to play together but we have no control over GoG and Steam interacting with each other in terms of the friends list.
How many people can be in one instance of the game?
Up to 3 players can be in an instance in the Open World.
Is the game colorblind friendly?
The game is not currently colorblind friendly.
Is there cross-region play?
Cross-region play is not available in the sense of selecting a server to play on to prevent high distance lag since that is highly impactful in a fighting game. However, you can invite/be invited by someone from another region to join their instance.
Where are the servers located?
We currently have servers in Ohio (NA), London (EU), Singapore (SEA), and Sydney (OCE).
What are the recommended specs for PC?
You can find the minimum and recommended specs here (scroll down):
https://store.steampowered.com/app/473690/Absolver/
I'm interested in the art style of Absolver. Where can I learn more about it?
You can find more information about Absolver's artistic inspiration here:
https://steamcommunity.com/app/473690/discussions/0/1486613649676487058/#c1486613649680659429
What's the deal with Sloclap?
Sloclap is a small, experienced independent studio located in Paris and founded in 2015 by veteran designers, programmers, and artists that met while working together at Ubisoft. Absolver is their debut project as a studio and began production in April 2015.