Home
›
Bug reports
Unable to start the game
[English & French]
It's been happening to me for a while now, but since the major update against cheaters i haven't been able to reconnect to the game.(I was kinda hoping it'd get fixed but obviously it's not haha) I'm posting a link of the screenshot and a copy/paste of the error message hoping that someone can help me, because i'd really like to play some absolver again.
Ça m'arrive depuis quelques temps maintenant, mais depuis la mise a jour qui empêche la triche je n'ai pas été capable de me reconnecter au jeu . (J'espérais que ça allait être réparé avec les mises a jours mais non haha) Je poste un lien du Screenshots et un copié collé du message d'erreur dans l'espoir que quelqu'un puisse m'aider, car j'aimerais vraiment rejouer a absolver de temps en temps.
Thanks for the future help!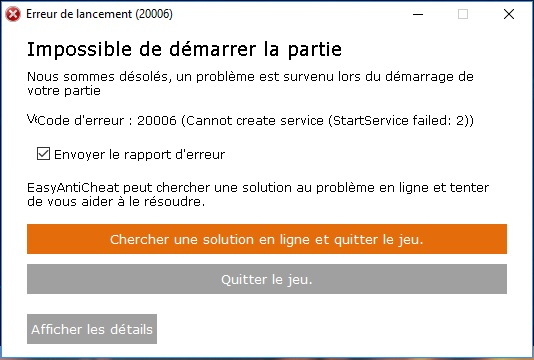 ERROR:
GameID: 206 (32bit)
Windows Version: 10.0 (Build 17134)
Error Code: 20006
Process Exit Code: 0h
UUID: 6356b0b1-297b-87ce-d13f-396fc7c22eca
Processes list:
absolver.exe
agmservice.exe
agsservice.exe
applicationframehost.exe
browser_broker.exe
calculator.exe
chrome.exe
conhost.exe
csrss.exe
dashost.exe
discord.exe
dllhost.exe
dwm.exe
explorer.exe
fontdrvhost.exe
huion tablet.exe
hxoutlook.exe
hxtsr.exe
igfxcuiservice.exe
inputpersonalization.exe
jhi_service.exe
jucheck.exe
jusched.exe
lms.exe
lsass.exe
memory compression
microsoft.photos.exe
microsoftedge.exe
microsoftedgecp.exe
mqsvc.exe
msascuil.exe
msmpeng.exe
nissrv.exe
nortonsecurity.exe
nswscsvc.exe
nvcontainer.exe
nvdisplay.container.exe
nvidia share.exe
nvidia web helper.exe
nvspcaps64.exe
nvsphelper64.exe
nvtelemetrycontainer.exe
presentationfontcache.exe
registry
rtkngui64.exe
runtimebroker.exe
searchindexer.exe
searchui.exe
securityhealthservice.exe
services.exe
sgrmbroker.exe
shellexperiencehost.exe
sihost.exe
skypehost.exe
smss.exe
smsvchost.exe
spoolsv.exe
steam.exe
steamservice.exe
steamwebhelper.exe
svchost.exe
taskhostw.exe
wacom_tablet.exe
wacom_tabletuser.exe
wacom_touchuser.exe
wacomhost.exe
wininit.exe
winlogon.exe
wmiprvse.exe
wtabletservicepro.exe
wwahost.exe